‣ Do you want to start a podcast but don't know where to start and are overwhelmed with the technical details?
‣ Do you want to enlarge your platform and reach a larger audience for your existing business?
‣ Do you want your podcast to be an actual thriving business that you invest into, rather than a hobby that you waste time and energy on?


Here are the answers you've been looking for.


Get a look inside the back office procedures and processes of one of the most prolific podcasters around now! You'll see the power and reach of the podcast platform, and you'll learn, step-by-step, how you can build and scale your podcast and income as big as you want in this is a no-holds-barred look into Mission Matters Media podcasts.
LEARN HOW TO PODCAST
WITH ADAM TORRES


Who am I?


I'm Adam Torres. You probably know me as the host of a podcast. I am also the co-founder of Mission Matters Media, an author, a publisher, an international speaker, and the host of 6 different podcasts with a total of more than 2,500 podcast episodes. At Mission Matters Media, we leverage social media, publishing, and our relationship with media partners to amplify the stories of thought leaders in many industries.


Although it may seem weird to you, I had almost 14 years of wealth management experience before flipping the switch and going full-time into media.


I'm not knocking anyone's "side hustle," but this is my full time job. Podcasting pays my bills and provides me a living I didn't think was possible. Why do I tell you this? Because you want to learn from someone who lives and breathes what they are teaching. Don't believe me? Subscribe to one of my podcasts and you will see new episodes released daily. I release 50-70 podcast episodes weekly.


What's so great about podcasts?


Let's start with some stats:


‣ 55% of US population says they have listened to a podcast
‣ 50% of all US homes are podcast fans
‣ 24% of US population says they listen to podcasts weekly
‣ 41% of podcast listeners have household incomes >$75k
‣ 93% say they listen to all or most of each episode
‣ Listeners subscribe to an average of 6 shows
‣ Listeners listen to an average of 7 different shows each week
‣ Average podcast episodes are about 40 minutes in length.


DATA CURRENT AS OF JAN 2021, SOURCE PODCASTHOSTING.ORG, CHARTABLE.COM, NEILSON.COM, EDISON RESEARCH


Podcasts are convenient for consumers. They can listen while they exercise, clean, or commute. You become a trusted friend they look forward to spending time with. Podcast listeners are loyal.


Starting a podcast is simple and inexpensive, compared to other methods of advertising or PR.


Podcasts are a powerful tool to engage with your customer base, and provide ongoing service to your existing customers who trust you. A 10-second engagement with a FB video ad is considered a fair level of engagement. But most podcast listeners are hanging out with you for 30-40 minutes every week, hearing your voice, laughing at your stories, learning from your expertise, and hearing about your business.


Having a podcast will make you a magnet for other influential people. You will increase your customer reach as well as make contacts for further business partnerships.


Mission Matters Media is built on the power and reach of our portfolio of >2,500 podcast episodes.


Why a Podcast School?


Every day, I interview business owners, entrepreneurs and executives. I've recorded over 2,500+ podcast episodes. Many of the people I interview ask me to help them launch their own podcast. That's why we started our Mission Matters Podcast Agency where we help people from A-Z with their podcasts, doing everything from editing audio to websites.


Over time I realized that many of the systems that have made our podcasts successful can be duplicated. Meaning, other people could use our processes to successfully start, grow and monetize their own podcasts. So my team went to the drawing board and spent almost two years developing this course. This is a tell-all course where I take you behind the scenes of our podcasts and models.


What Makes This School Different?


This course is designed for busy professionals who have always wanted to start a podcast but have never had the time or knowledge to launch one effectively. Others who will benefit from the course are the part-time podcasters who can't quite figure out how to grow their audience and monetize.


While I'm not claiming that I've seen all podcast courses ever made, I can tell you that when I was first getting started, it seemed like all of the courses were really long and felt like part-time jobs just to complete. Well, I wasn't looking for a part-time job, I had a business already and just wanted to podcast.


My commitment to you is that each lesson in this course will be straight to the point. Most videos are around 5 minutes. Why? Because you don't need to hear me drone on. You just need the information so you can take action. Less time learning and more time in action is what will grow your podcast.


The information I give you is information I use every day-it's not just theory. I'll show you my back office: how I plan my podcasts, how I find and schedule my guests, the software and services I use and why, as well as some top-level strategies to monetize your podcast.


Is this course right for you?


‣ You're brand new - I have AN EASY way to start a podcast in the next few hours. Don't complicate things. I'll show you how.


‣ You have a business and you want to leverage a podcast to increase your brand awareness and connect with your customer base. A podcast is the perfect tool to get your name and services into the ears of potential customers and to increase your authority.


‣ You've had a podcast for years and it's sputtering along. You want to know how to take your podcast game to the next level and how you can turn this into a full-time career and make money from it. You'll love the many monetizing strategies I go over in the course!


Part 3
MARKETING MACHINE
MISSION MATTERS Podcast School


Let me tell you more!


The Mission Matters podcast school is separated out into 3 different courses.






Part 3 MARKETING MACHINE will teach you the next-level marketing strategies to monetize your podcast.




In Part 3 MARKETING MACHINE, I'll show you the strategies I use every day to expand the reach of Mission Matters Media, as well as the different ways we use that reach to create multiple streams of revenue in our business.


You'll learn:


‣ Social Media - learn some of the nuances of each platform and which ones are my favorite for Mission Matters
‣ Monetization - Years of research and studying are in this section alone. We'll delve into 10+ different methods for monetizing your podcast.


What Do You Get?


You will have
access to 25+ videos immediately
that you can work through at your own pace. (See below for the full contents and previews.)


You will get a downloadable workbook with notes.


It takes a community to raise a podcast. Community is important not just to exchange ideas and best practices, but it's important for motivation, support and a sense of connectivity. This is why you will also receive access to our Private Facebook Group. Our community is united with the goal of helping each other succeed.
ENROLL NOW
Choose your pricing option:
*No Risk 30 Day Money Back Guarantee
Part 3 MARKETING MACHINE
Course Curriculum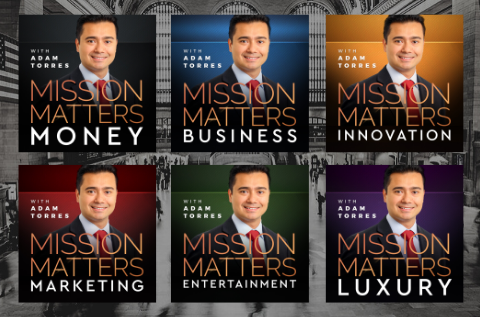 Couple Final Thoughts...
Podcasting has completely changed my life. So regardless of if you choose me for your coach or someone else, start your podcast. You will not regret it. The relationships you will make, both personal and professional, are worth it alone.
There's just something special about the community of podcasters in the world. Can't really explain it, but if you cross over to the other side with us, you will get it soon enough. If you already host a show, then I'm sure you already know what I mean.
Happy Podcasting,
-Adam
ENROLL NOW
Choose your pricing option:
*No Risk 30 Day Money Back Guarantee